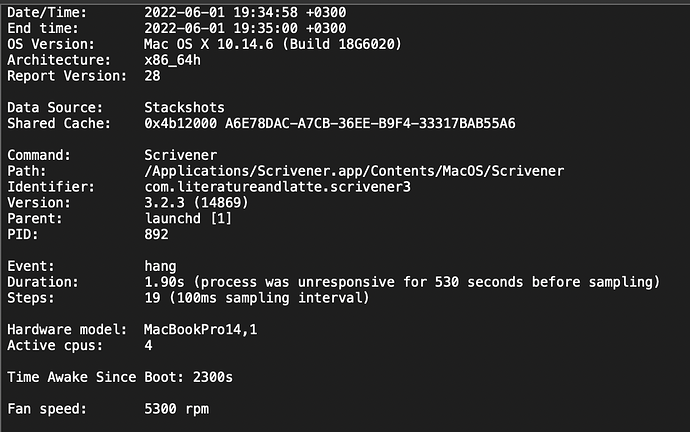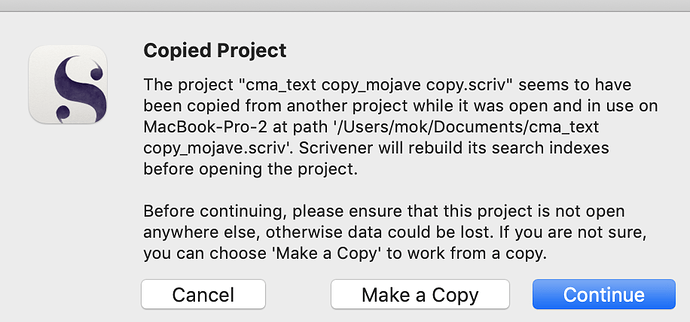 I have been trying to compile a 40 mb Scrivener file to ePub. When I do, I get a never-ending spinning beach ball and have to force quit the program. When I open Scrivener again, it tells me that it is rebuilding indexes. I shut down the Mac and tried again, but get the same result.
If I compile simply to plain text, Scrivener doesn't choke.
Any ideas? I could go to a back-up file, but then I'd lose a lot of line-edits, so I don't want to do that.
I'll try it on another laptop with a little more memory (16 gb RAM instead of 8 gb) but I'd like to keep working on Mojave.
Edit: Duplicated the project file (cmd+D) , deleted all the files in the research folder to lessen the overhead. Got the attached error message; at the time the project wasn't opened anywhere. When the project does open, it opens not to the binder but to the Global Search pane. The Mojave beach ball keeps spinning when trying to compile too ePub.