Hi AmberV,
As a quick followup, I did a quick search for .scrformat files and found just one file that contained some code that I recognize, e.g. the LaTeX (Memoir Book).scrformat file that contains the Arara code from my LaTeX (Memoir Book) > Project Formats > Text Layout: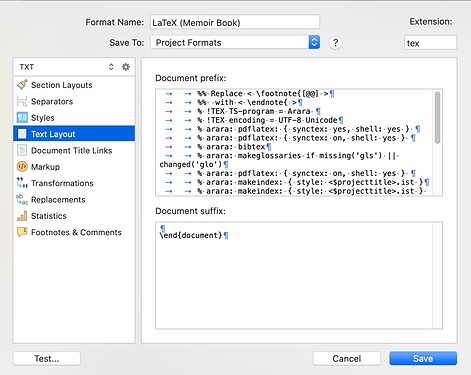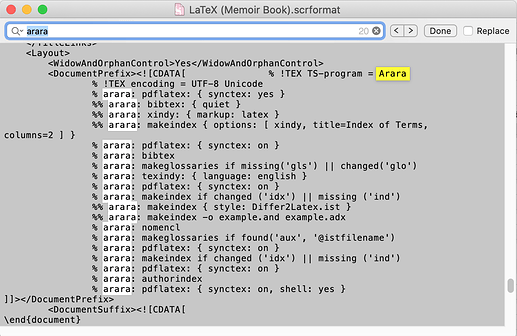 Aside from the Arara code, however, there was little else within the (presumably) XML file that I could recognize.
What little I understand of Apple's file structure, I am of the understanding that much of the file structure is hidden (as opposed to Windows where most everything is visible and can be searched), presumable as a way to simplify the file structure within the Finder. To the extent this is true, I would not expect to find much in the way of other Scrivener .scrformat files using the Apple Finder.
Given the lack of a straightforward way to retrieve the Scrivener Style code directly from the Scrivener files, I've proceeded to cut-and-paste a summary sheet of all of my Scrivener Style code.
Thanks for the insight into Scrivener's Style file structure,
scrive


P.S. The message board came up with a message stating that after my third response to you on this issue, perhaps it would be a good idea to switch my post to a private message. I thought that might be a good idea to avoid cluttering up the main message board with such a unique response to my original posting. Thanks for all your help!