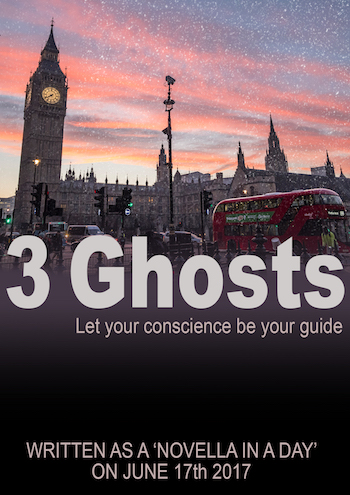 3 Ghosts was written as a Novella in a Day on June 17th, 2017.
Four versions were produced: Blue, Green, Orange and Red.

BLUE was written by:
Julia Pierce, J.D. Eckstrom, N.D. Robitaille
Keith Blount, Stephen Kittel, Conrad Gempf
Linda Weeks, Sam Pynes, Heather Lovelace-Gilpin
Wendy Christopher, Eric Christiansen, B. Morris Allen
GREEN was written by:
Gavin Danger, Tim Edwards-Hart, Astrid Stevens
Noé Ramalleira Fernández, Claire Woodier, Ian Philpot
Adela Torres, Kelsey McIntyre, Kimberlee Gerstmann
Alyssa Judson, Sue Cowling, Ron Ward
ORANGE was written by:
Kim Kneen, Rebecca Schuster, Alex Schuler
Pete Becker, Stephen Kittel, Nick Calvert
Greg Ray, Waleed Ovase, Ryker Hayes
Jaysen O'Dell, Luscinia Evan, David Johnson
RED was written by:
Julia Pierce, Wolf Baginski, Astrid Stevens
Kate Stuart, M. Peyton Culbertson, Jacqueline S Miller
Mike Devitt, Gil Rognstad, Ryker Hayes
Jaysen O'Dell, Michael Bywater, David Johnson
You can download the books for free here:
Blue_PDF
Blue_ePUB
Blue_mobi
Green_PDF
Green_ePub
Green_mobi
Orange_PDF
Orange_ePub
Orange_mobi
All of the versions were compiled using the Mac version of Scrivener. You can download the Scrivener project (which includes all the chapter briefs sent out to participants) here, along with the compile settings use to produce the books here.