Hi, is it possible to change the color of the selection halo? Thank you!
And if you mean the overall selection highlight colour, such as the halo that appears around index cards, inspector comments, and list selections (such as the copper colour illustrated above), then that is a Mac setting, in System Preferences: General.
Thanks to you both for your responses. I meant the color in Scapple, not Scrivener, and I apologize for not clarifying that. I've noticed there seems to be two colors associated with selection in Scapple. A red for a highlighted bubble and an orange for a bubble in which the cursor is active. These are the two colors I'm curious about changing. I don't see these two colors in any other app on my Mac, so I believe the choice is more likely being made by Scapple.
Thank you!
Lisa
I've changed the category to Scapple, to avoid further confusion.
The answer given above is still pertinent however. The selection colour around things and with text is all system level. I do realise they have made this a bit confusing in the most recent version of macOS, since this is by default no longer a consistent system-wide setting and rather something each program can change—but that aspect itself is just the default setting. Change it to the colour of your choosing and all programs will follow that setting.
Amber, thanks for your reply. I followed your advice and changed the Mac General setting for highlights. It was set on "accent color" and I changed it to pink as a test. You can see screenshots below of before and after for the two cases (highlighted bubble; cursor active in bubble). It doesn't change the color of the borders (what I think is called the selection halo in Scapple) but it does change the background color of highlighted text. I'm interested in changing the color of the border that pops up around bubbles when you 1) highlight and 2) are working on text inside.
Actually, the forum isn't letting me post with my screenshots (png). It lets me attach but when I click Reply I get an error message. I'm going to try starting a new topic to see if it lets me add them for a new post.
Thank you!
Give the screenshot attachment another try. Your account was too new to post images (it's a spam protection thing), but you're obviously a person and not a bot, so I've upgraded your level.
That aside, I'd give the program a quick restart in case you haven't done that yet. It shouldn't be necessary to do so, but I'm pretty sure the halo around a selected note should be pink.
Ok, thanks Amber. Here are screenshots. I restarted the program before taking the "after" shots.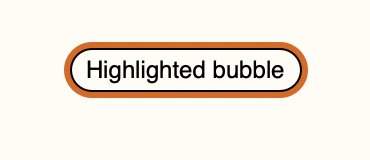 Interesting, I do think that is a bug. I'm seeing part of that myself on an older system (macOS 10.14). With that my preferred colour (purple) shows up when I select notes, but I do get the same problem you do, in that when I edit a note, the faded version of the highlight switches over to system default, while the text highlight works with purple.
So we'll have to take a look at the edited note halo and see if there is anything to be fixed there. Thanks for the report!