In Scrivener3, the colors on the text panel are different than in a previous version.: (I'm referring to the top row, black-red-green-blue-gray).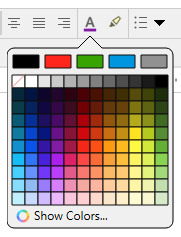 Previously gray and blue were different, and I got used to using those colors to color code different parts of the text I write.
Is there a way to customize these colors? I've looked through options menus and forum posts but I'm not finding it. Apologies if this is asked and answered already.
Thanks,
Adam