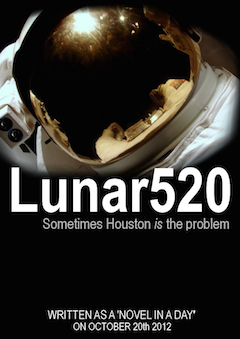 Henry Page gets his dream job as the engineer on a high profile NASA mission. But just what is Mission Control's real objective for the flight?
Get a copy for free here:
– ePub version
– Kindle version
– pdf version
All of the versions were compiled using the Windows version of Scrivener. You can download the Scrivener project (which includes all the chapter briefs sent out to participants) and compile formats that were used to generate these files below. Please note that, although the Scrivener project can be opened in either the Mac or Windows versions, the compile format presets are Windows-only.
Lunar520 - Scrivener Project
Lunar520 - Windows Compile Presets (E-Book and PDF formats)
WRITTEN BY:
Adela Torres
Astrid Stevens
Beth Cutter
Charles Dow
Claire Woodier
Dawn Oshima
Ioa Petra'ka
Jake Kerr
Katy S. Adamson
Keith Blount
Lee Powell
Mandrake
Mark Rothwell
Matt Tobin
Michael Bywater
Montrée Whiles
Paul Shalley
Pete Becker
R. Dale Guthrie
Ron Ward
Sue Cowling
Tim Edwards-Hart
Tim Rogers
Victoria Griesdoorn
Waleed Ovase