In another thread, Ian (@nontroppo) generously shared a variation of his main Scrivener template adapted to work with Quarto.
Here, I am sharing another version of that template that has been adapted to work with a new Quarto extension called Cite Tools, that introduces advanced bibliography features to Pandoc and Quarto (previously available only in BibTeX).
---
TL;DR
The template will make it easier to use multiple bibliographies and cite arbitrary fields of the references.
Multiple bibliographies (with citation backlinks!)
Cite Field
A sample output can be downloaded here. The main changes, that concern Cite Tools and this template, are on page 20 of the PDF.
---
Do it with ease
The Scrivener template will make it much easier to use Cite Tools. Multiple-bibliographies can be set up by simply providing the path to the bib file as a meta-data attribute of the section where it should output.

The sample project can be compiled right away. All of the bibliography files are on Github and will be accessed via the URL (you'll need an internet connection). BUT, bear in mind, the original project has several dependencies, such as R packages (e.g. ggplot2), apart from xquartz and librsvg. Unless you have these installed, compilation will likely fail unless you leave out sections with R code.
"Do it with style"
Styles will make it easier to cite arbitrary fields from the references.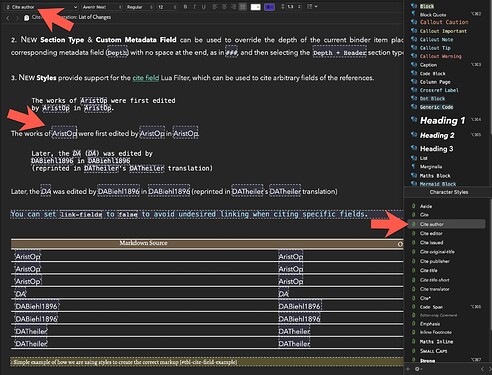 Side note. Let us use imagine for a moment that these are built-in styles, and that Scrivener is aware of the bibliography files specified above. Wouldn't it be sweet if it could use its own built-in Citeproc engine to display the rendered citations in the text (according to the style applied)?
Tip #1: Inspecting the bibliography files from Scrivener
Bonus #1: Pandoc-style inline footnotes

Check out the extra style to create Pandoc-style inline footnotes.
Bonus #2: Rolling in the deep

New section type allows the depth of the current binder item to be overridden from the custom metadata attributes. Place the number of hashes in the Depth field and select the appropriate section type.

If you need the Binder and the TOC organized differently, it could come in handy.
Bonus #3 Connected text

The <$linkID> is now being used to create anchors all over the document. This allows us to create links to any binder item (including text parts with no markdown headings)
Changes to the original Ruby Script

Changed: the script will now time-out after 90 seconds (easy to change) to prevent indefinite hangs.
Changed: the log will open only if the process fails.
Fixed: the file paths are now quoted in the conversion command to avoid errors.
Tip #2: Zotero API URL

If you use Zotero, you could even use the API to connect directly to your database using https://api.zotero.org/groups/LIBRARYID/items?format=FORMAT as in https://api.zotero.org/groups/4765601/items?format=json. The only problem is that you would have to use Zotero's built-in cite keys (something I find outrageous).
---
Download Project