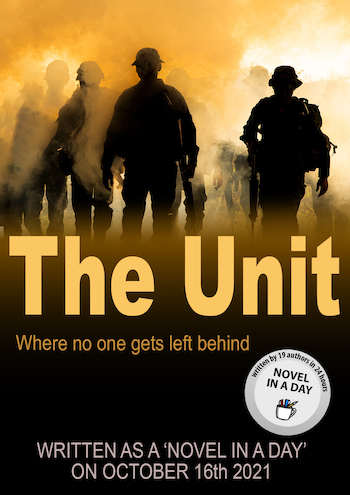 The Unit was written as a Novel in a Day on Saturday 16th October 2021
Three versions were produced: Blue, Green, and Red.
BLUE was written by:
Amy E. Lilly, Michael Roberts, Sherida Deeprose
Lin Lune, Dawn Oshima, Julia Pierce
Oleksandr Baranov AKA Garrett, Julia Ward, N.D. Robitaille
Sheila Lynch, John Gray, B. Morris Allen
Greg Ray, Charlotte Barker, Rob Ryter
Gerald Hornsby, Waleed Ovase, Matthew Merkovich
and Kimberlee Gerstmann
GREEN was written by:
Anna-Lisa Taylor, Heather Lovelace-Gilpin, Chelsea Fuchs
Ian Philpot, Ann M. Beardsley, Julia Pierce
Alex Brantham, Julia Ward, Jaysen O'Dell
Ioa Petra'ka, Jeanette Everson, B. Morris Allen
Keith Blount, Charlotte Barker, Ian Hocking
Sue Cowling, topher, Carly Brooks
and M.T. Decker
RED was written by:
Anna-Lisa Taylor, Michael Roberts, Pete Becker
Skylar Goodspeed, Annette Pateman, Julia Pierce
Nick Calvert, Julia Ward, E. Kinna
L.G. Red, Jeanette Everson, Ruth McCracken
Keith Blount, Cassandra Lee, Ian Hocking
Conrad Gempf, Caroline Whiteman, Susan Wheeler
and Russella Lucien
You can download the books for free here:
Blue_PDF
Blue_ePUB
Blue_mobi
Green_PDF
Green_ePUB
Green_mobi
All of the versions were compiled using the Mac version of Scrivener. You can download the Scrivener project (which includes all the chapter briefs sent out to participants) here, along with the compile settings use to produce the books here.
A Mac v2 / Windows v1 compatible version of the Scrivener project is available here, along with older Mac v2 compile settings here.